International E-School on circular economy 12th -26th May 2020
International E-School on circular economy 12th -26th May 2020
International E-School on circular economy 12th -26th May 2020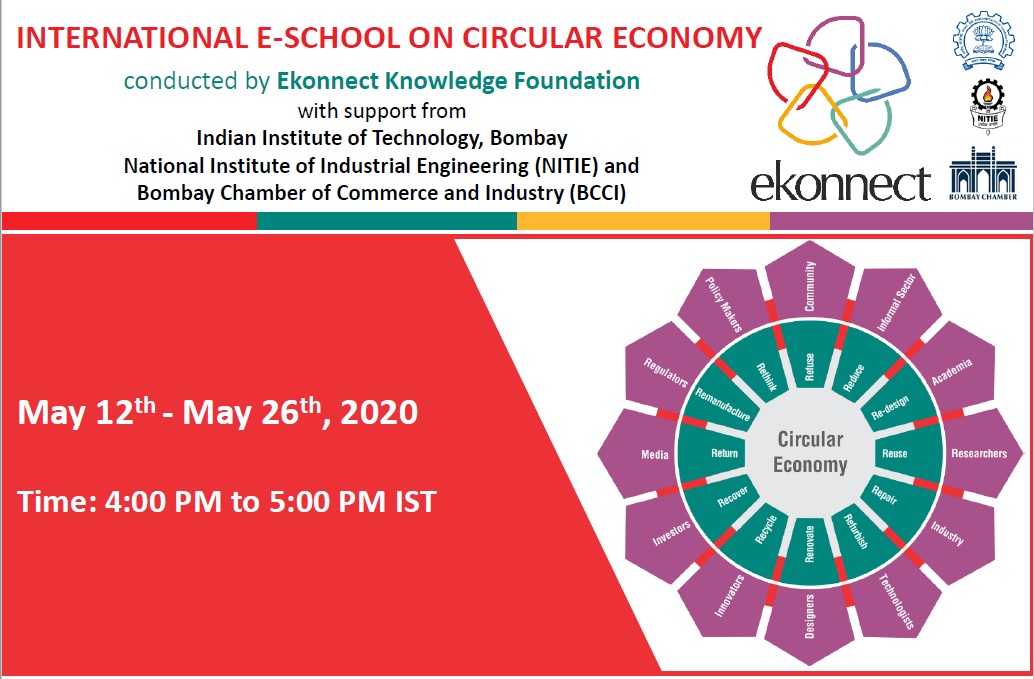 One of the CCET Steering Committee member, Mr. Prasad Modak, Executive President, Environmental Management Centre LLP, Director, Ekonnect Knowledge Foundation will organise the international E-school on circular economy. 
The E-school is a series of 11 virtual learning sessions covering various topics in Circular Economy for aspirants across all countries worldwide. Topics covered include Evolution of CE, Life Cycle Assessment, Sustainable Public Procurement, Sustainable Product and Packaging Design, 12Rs of CE along with related policies, regulations and technology innovations. Business models in CE and Financing with role of informal sector will also be covered with case studies and interactions with CE practitioners.
Participants who attend all the 11 sessions, will receive a certificate.
The registration fees are very low, and twenty five percent of the receipts will be donated to the agencies engaged with the informal waste pickers. They will use our donation to provide them Personal Protective Gears like masks and gloves. Some worthy institutions in Mumbai and Pune have been identified. These waste pickers are under high risk of COVID-19 infection.
For details, visit https://ekonnect.net/events/upcoming-events/e-school-on-circular-economy
Date/Time
12-26 May 2020/ 4:00pm to 5:00 pm (IST)